The commitment to become healthy and fit takes a lot of discipline. More often than not, the reason why people tend to break such habit is due to the lack of time to go to the gym.
By deciding to get a home-based workout station, a person can do his workout regimen without having to allot time for travelling from home.
Furthermore, gym schedules and membership fees will no longer pose a problem.
Save $200 (50%) on the Smooth CE 9.5 Elliptical >
Smooth CE 9.5 Elliptical: The Heavy-Duty, Home-Based Trainer Overview
Smooth Fitness offers a variety of commercial-grade gym equipment at a reasonable price. Industry leading warranties makes this fitness company stand out from the rest. To keep their ellipticals, treadmills and trainers updated and user-friendly, Smooth Fitness equips them with USB slots for playing music and tablet-based controls (accompanied by the Smooth Sync Bluetooth Module).
Smooth Fitness CE 9.5 Elliptical Trainer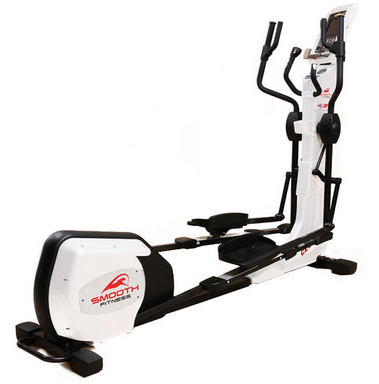 As part of Smooth Fitness' newest line of ellipticals, the Smooth CE 9.5 Elliptical Trainer comes with a rear-drive system, adjustable stride lengths (19″ to 24″), lifetime warranty (for brakes and framing,), 24 intensity levels and 35 programs to choose from.
The benefit of choosing an elliptical with adjustable stride is that it could be utilized by a variety of individuals having different heights. Also, adjusting the stride length allows multiple muscle group workout.
Electromagnetic braking is introduced for smoother workout transitions. Handlebar controls assure effortless adjustments in intensity.
Smooth CE 9.5 Elliptical Programs
The Smooth CE 9.5 Elliptical programs include 4 heart rate controls (H.R.C) to which the machine adjusts workout intensity every 15 seconds to maintain the heart rate specified by the user. A wireless chest belt is provided to obtain such data.
One particularly important program present in the Smooth CE 9.5 Elliptical is the Fitness Test. It serves as a physical assessment on how much the user's performance has improved with the help of the elliptical.
Lose Weight and Get in Shape – Click Here!
Pros and Cons
May it be for convenience or durability that comes with the brand, the Smooth CE 9.5 Elliptical will work wonders to one's overall physical wellness. The list below summarizes the CE 9.5's pros and cons.
 

icon-arrow-circle-up

 Pros
1. Adjustable Stride Length. Selecting an elliptical with adjustable strides makes sure that other muscle groups will be targeted. Also, this means that users of different heights will be able to work out with a more natural stride motion since they won't have to settle for the elliptical's default stride length.
2. mySmooth Fitness Virtual Trainer. Not only does the mySmooth Fitness Virtual Trainer allow control of the Smooth CE 9.5 Elliptical via Smooth Sync Bluetooth Module, but it also has video footage of areas around the world perfect for hiking and exercise. Immerse oneself in a virtual hike with the help of videos taken with Imax technology to simulate reality. Different terrains will have the equipment changing its inclination and resistance in real-time.
3. Warranty. Smooth Fitness' elliptical users will not only enjoy lifetime warranties on framing and breaks, but they'll also receive an 8-year warranty on parts and electronics. Home labor warranty is within a two year time frame.
4. 35 Workout Programs including Random and Fitness Test. While choosing Random keeps the workout interesting each day, the Fitness Test presents data on how much the user has improved.
5. Built-in Fan. The Smooth CE 9.5 Elliptical is one of the few ellipticals with a built-in fan to keep oneself from overheating during a rigorous workout.
6. Rear-Drive System. Rear-drive systems require fewer parts to simulate a person's natural pedal motion thereby reducing the machine's tendency to experience wear and tear. The Smooth CE 9.5 Elliptical places the weight at the rear of the system to ensure stability while in training.
7. Smartphone & Tablet-Based Controls. With one's Android or iOS tablet working with the Smooth Sync Bluetooth Module, users may change controls, save profiles and keep their workout data in tabs. As an added perk, mySmooth Virtual Fitness Trainer also offers amazing outdoor workout views that simultaneously adjust the Smooth CE 9.5 Elliptical's resistance and inclination.
 

icon-arrow-circle-down

 Cons
1. Fixed Pedals. The Smooth CE 9.5 does not come with Smooth Fitness' ergonomic, shock-absorbing pedals.
Verdict
Home-based gym equipment are beginning to become a trend. With Smooth Fitness' affordable prices and easily accessible site, choosing the right elliptical is as easy as browsing through their website.
The Smooth CE 9.5 Elliptical comes with a good set of benefits. These include lifetime warranties, tablet-based controls, adjustable stride lengths and a plethora of workout programs to choose from.
Check the latest deals & coupons for the Smooth CE 9.5 Elliptical Trainer