Simply put, the Boston Marathon 3.0 is near the top of the list when it comes to treadmills. One of the few that beat it is its near cousin, the Boston Marathon 4.0. However, for this price range, the 3.0 is stunning. It will keep up to the most vigorous exercise regimens.
Pro-Form Boston Marathon 3.0 Treadmill Overview
Outstanding Performance
Why is it so impressive? Well, for one thing, it's easy to use and has tons of features. The console is in color and uses touch screen functions to set the options. It can even connect to the internet!
By doing so, you can keep track of your workouts automatically, so you can see how far you've run on your treadmill.
You also get access to iFit workout programs to view on the console, where you'll be coached by Jillian Michaels, and to HD Boston Marathon Video Workouts that feature the course of the marathon itself.
Price: $2999   $4999  SEE IT >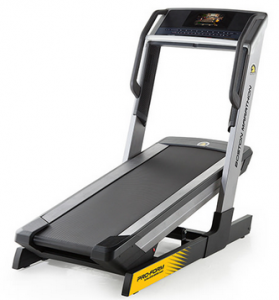 You can also hook up your mp3 player to easily listen to music while you exercise.
Of course, the machinery itself is impressive as well. It sports a 4.25 CHP Commercial Pro Motor that is guaranteed to stand up to even intensive training.
That's not a figure of speech – it's supported by a lifetime warranty, along with the frame (individual parts have a warranty of 6 years). Two cooling fans keep the machinery from overheating even during intense workouts.
The belt itself is 20" x 62" and has been engineered to provide a premium running surface. It's durable and won't stretch out or get loose. Taller runners will be grateful for the extra length, as it provides plenty of room for them to find their full stride.
The Boston Marathon 3.0 is simple enough for beginners to use, but that doesn't mean that it doesn't stand up to the needs of pros. It provides more speed intensity and better incline training than most other treadmills. You can set the incline up to 20%, so you really get practice for uphill running.
The Pro-Form Boston Marathon 3.0 also hits its highest pace at 15 mph, rather than the standard 12 mph you'll find on most machines. Whether you're already a pro or plan to work your way up to higher speeds gradually, you'll find the options you need on this treadmill.
Some people worry that exercise equipment isn't for them. They want to work out to lose weight, but because of their weight, some equipment isn't designed to support them.
They won't have to worry about that with the Boston Marathon 3.0. It's rated to support up to 400 lbs. with its sturdy frame. Pro-Form is dedicated to providing everyone with the means to improve their physical fitness.
What's the Catch?
It seems impossible that any treadmill could be absolutely perfect, and of course, it's true. There are a couple downsides to the Boston Marathon 3.0, but they're fairly minor.
One is that it does not include a hand sensor heart rate monitor, even though many other treadmills of about the same cost do. Of course, you can always use your own heart rate monitor if that's an essential statistic for you, but that means spending more money, and it won't be uploaded automatically with your other stats.
The iFit Live subscription also costs extra money – either $8.25 per month or $99 per year. Some of the features will not work as well without this subscription.
Verdict
The Boston Marathon 3.0 is more than adequate for any runner's needs. It's especially recommended if you intend get into serious training or already run a lot and want an indoor option that will compare to outdoor training. The 4.0 does have a few more features, but it costs considerably more, and the 3.0 already provides all the options most people will need and more.
Ordering the Boston Marathon 3.0 directly from Yowza Fitness is the best way to get it. You'll save money by cutting out the middleman, and you can also get free shipping direct to your house. Plus, you can be more sure of the condition your treadmill will arrive in, as it will only be moved once.
It's never too late to start running. Get the Boston Marathon 3.0 NOW!