It's already a proven fact that people who exercise routinely are healthier both physically and mentally.
Unfortunately,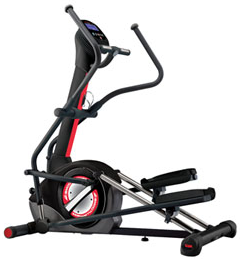 not everybody can visit the gym on a regular basis due to hectic schedules and busy lifestyles.
What home-based exercise machines provide is a simpler method of getting into shape and achieving a healthier body without having to be constrained with these limitations.
Ellipticals, in particular, are a sales trend these days because majority of them already have handle bars for upper body workouts.
Click to save $1400 (52%) on the Smooth VT 3.4 Vertical Trainer
Smooth VT 3.4 Vertical Trainer Features
The new Smooth VT 3.4 Vertical Trainer is, by far, one of the cheapest Smooth fitness ellipticals given the features it comes with. It offers an adjustable stride length ranging from 18″ to 21″ and 16 workout intensity levels. The weight limit for this elliptical trainer is at 300 lbs.
With this stepper/elliptical machine, one could select from 15 different exercise programs including ladder, weight loss, mountain climb, rolling hills and Heart Rate Control (HRC).
Such exercise routines target the following muscles: abdominal, quadriceps, hamstring, calf and gluteal muscles.
Among the selectable programs for the Smooth VT 3.4 Vertical Trainer are the H.R.C. and H.R.C. Interval. These two programs rely on the user's real-time pulse or heart rate to automatically adjust the elliptical trainer's setting.
When using the VT 3.4's H.R.C programs, 3 minutes is allotted for warm up. During such time, the resistance or torque levels remain adjustable from 1 to 16.
Once the warm-up is complete, the H.R.C. main program will begin monitoring the user's pulse through pulse sensors on the handle bars or a wireless heart rate monitor strapped on the user's chest. This, in turn, adjusts the torque/resistance every 15 seconds to maintain a pulse within the target heart rate zone.
Lose Weight & Get in Shape with the Smooth VT 3.4 Elliptical 
Smooth VT 3.4 Vertical Trainer Pros and Cons
Smooth Fitness is known for offering the best-valued trainers in the market. By choosing Smooth Fitness' ellipticals, users get to enjoy a 5-year warranty on electronics and parts, a 2-year warranty on home labor and a lifetime warranty on frame and braking. Also, since it's directly from the manufacturer, additional costs are avoided.
The list below summarizes the Smooth VT 3.4 Vertical Trainer pros and cons.
 

icon-arrow-circle-up

   PROS
1. Robust and Heavy Flywheels. Smooth's vertical trainers are all equipped with heavy (22 to 48 lbs) flywheels so users can enjoy smoother, less strenuous elliptical rides.
2. Adjustable Stride Lengths. Smooth VT 3.4 Vertical Trainers have adjustable stride lengths ranging from 18″ to 21″.
3. Wireless Heart Rate Control. Aside from pulse sensors on the handle bars, users are provided with a strap-on chest monitor free of charge.
4. Great Warranty. By choosing the Smooth VT 3.4 Vertical Trainer, owners get to enjoy industry leading warranties.
5. Android and iOS Tablet Compatibility. Smooth Fitness elliptical machines and treadmill users can now enjoy a broader set of controls and a wider variety of workout programs by installing the Smooth Sync bluetooth module into the VT 3.4 and running the mySmooth Virtual Trainer app.
 

icon-arrow-circle-down

   CONS
1. Front Drive System. Front drive require more parts in order to simulate movement natural to rear-drive systems. Therefore, the Smooth VT 3.4 may require more maintenance.
2. Fixed Pedals. Unfortunately, this elliptical machine does not come with articulating pedals that most Smooth Fitness cross-trainers come with.
Summary
The Smooth VT 3.4 Vertical Trainer offers easily adjustable stride lengths, 16 intensity levels, industry leading warranties, tablet-based workout controls and more features that help in maximizing one's workout performance. All of those at an affordable price tag.
Click to save $1400 on the Smooth VT 3.4 Vertical Trainer NOW!