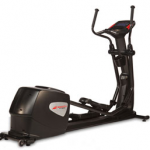 The Smooth CE 8.0LC elliptical trainer is a stable, heavy duty trainer for in home or light commercial use. This elliptical trainer includes oversized, cushioned foot pedals, a heavy-duty flywheel, a long 21″ stride, and an LCD touch screen display.
Lifetime warranty on the frame & braking system, 10 years on all parts & electronics and 2 years in home labor.
The Smooth CE 8.0LC Elliptical – a Quiet and Sturdy
The Smooth CE 8.0LC is a good investment for anyone who wants an elliptical that will keep up with them and also feel great.
It can match up with the machines provided at your gym in both its own durability and in the quality of workout it provides. Best of all, it offers all this at a great price.
With 16 intensity levels, it's suitable for both beginners and those who have been training for a long time already. Novices can slowly increase their workouts while more experienced users can start in at a higher level.
It also offers support for a wide range of sizes with its oversized pedals and ability to support up to 400 lbs.
Beginners don't have to worry about having difficulty making sense of their new machine, either. It's easy to put together, with very clear instructions even if you haven't assembled many projects of that scale.
The CE 8.0LC elliptical trainer includes several nifty features, such as a water bottle holder, exercise programs for you to try, and a wireless heart rate monitor.
All of these will help you make the most out of your workouts. It includes a tablet stand as well, so you can listen to music, watch videos, or easily keep track of your workouts.
 icon-arrow-circle-up Pros:
• Sturdy. Some machines feel like they are rocking or might fall over, but not this one.
• Smooth. Since most people buy ellipticals for low impact workouts, it is important for the motion to be smooth and steady, and the CE.80 delivers.
• Quiet. Some ellipticals are very loud to use, but this one works quietly, which is great for shared spaces.
 icon-arrow-circle-down Cons:
• Heavy. It's fine if you use the delivery service or have enough people to move it if necessary, but despite the easy assembly, it might be a bit difficult to wrangle on your own.
• Can't track multiple users. However, it's not uncommon for machines in this price range to be missing this feature.
Summary: The CE 8.0LC elliptical is a very stable, reliable machine that feels great to use and comes at a great price for the value.