Bowflex is one of the best-known names in the exercise machine business, and it's for good reason. Their machines are backed by plenty of research in order to create the most efficient and effective workouts. Their new Max Trainer line has a range of options, but the most affordable is the Bowflex Max Trainer M3.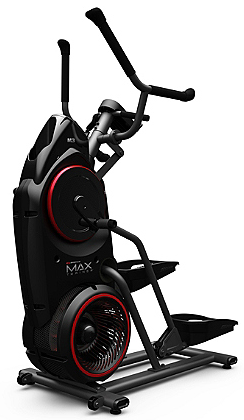 The M3 is designed on the same principles as the rest of the line, principles that make it healthier and more effective than your standard treadmill or elliptical. It takes up comparatively little space for an exercise machine, so it's ideal for anyone who doesn't have much room.
It also resolves the problem of impact on your joints. Many people have problems exercising because their joints become sore easily when they jog or run. Ellipticals were designed to help with this problem, and they do, but they can be bulky.
Most importantly, the Bowflex M3 and the rest of its line are simply more efficient than other exercise machines. One study discovered that individuals who worked out on Max Trainer machines burned over twice as many calories as when they did similar workouts on elliptical machines.
The M3 has all of the important features that make the Max Trainer Line so effective. It has the same maximum and minimum resistance as its more expensive counterparts, and still offers a zero-impact workout. However, by cutting back on features like the LED display – features that were attractive and useful, but not absolutely necessary – Bowflex is able to offer the M3 for only $999.
That may still seem like a high figure, but it's achievable for many people when they consider the excellent investment that the Bowflex M3 represents. Below is a more detailed rundown of exactly what you'll get with the M3.
Shop the new Bowflex Max Trainer M3 today for only $999! The workout that's only 14 minutes!
Features
Along with the machine itself, you'll receive two workout programs when you purchase the Bowflex M3. These are the standard programs that most people will want to use for the best results: Manual and Max Interval.
The M3 has 8 resistance levels, so you can gradually increase the difficulty of your workout as you get stronger and fitter. Again, the minimum and maximum levels are the same as those you will find on Bowflex's more expensive machines.
The display may not be LED, but it is still clear and has a nice, intuitive layout. It includes meters for calories burned and your burn rate, so you know not only the total effect of your workout but also how intense it was.
A chest strap is included to keep track of heart rate, as well, so you can ensure you are getting an intense enough workout to properly count as your cardio exercise.
The way that the Bowflex M3 works means that you'll be getting an upper body workout along with your cardio exercise. Obviously, it's not going to be as effective as dedicated strength training, but you'll still get increased upper body strength.
 

icon-arrow-circle-up

 

 Pros:
• The workout programs are short – only 14 minutes. This makes them perfect for anyone with a busy schedule.
• It's small enough to fit in most spaces, even in some apartments.
• All the indicators on the machine are easy to read.
• You'll burn more calories with the same length and intensity of workout than you would on other machines. Some users lost 30 lbs in 30 days by exercising only 14 minutes a day!
• Zero impact – great for those who have arthritis or other joint problems and find jogging painful.
• Runs quietly, which is also helpful for those living in apartments.
• You can monitor your heart rate along with calories burned and intensity.
  

icon-arrow-circle-down

   Cons:
• Fewer resistance levels than higher end Bowflex machines, so your difficultly increase can't be as gradual.
• No Bluetooth capability for easily tracking your progress.
• You only get 2 workout programs, rather than the larger variety included with more expensive machines.
• Must be used and stored indoors only (though the small size helps with that).
• Must assemble yourself or pay a fee ($249+ tax) to have it assembled for you.
Verdict:
Simply put, the Bowflex Max Trainer M3 is an excellent exercise machine for a wide variety of people.
It offers a short workout for individuals who don't have much time and a small footprint for those without much space. It also provides a zero-impact workout, a feature that is essential for joint health for many people. Because of the ability to adjust resistance, it can be suitable for anyone from beginners to people who are already competing.
Best of all, it offers all these features for a reasonable price that many will find more to their liking than it's more expensive cousin, as long as they don't want the extra features.
Purchase Information:
The Bowflex M3 has a one year warranty and also comes with a money-back guarantee for 6 weeks.
You will only find the Bowflex Max Trainer M3 for sale online, and you'll get the best deal (and be able to feel sure that the equipment is in good condition) if you order directly from the Bowflex website. Be sure to keep an eye out for coupons or sales as well!