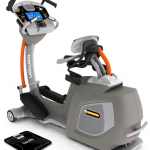 Save $900 + FREE Fitbit Surge Fitness Super Watch with GPS Tracking and FREE shipping on the Yowza Naples Elite Cardio-Core EVO series Seated Elliptical.
Patented Power Adjustable Seat
Two Counter Rotational Handle Bars
Isolate Target Muscle Groups for Optimum Benefits
Less Stress to Lower Back
Not everyone can support their whole body weight for the period of a workout. Health conditions or leg injuries can make it impossible to use a standard elliptical or other gym equipment.
The default position focuses equally on the upper and lower body, but the options range from 30% upper body to 80% upper body, and the height changes at just the push of a button.The Yowza Naples Elite comes with a feature that isn't on any other machine in the EVO line. It makes use of Yowza's MyLivelight app.
This app allows users to integrate their entire health experience.