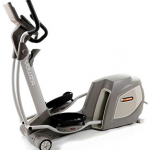 Save $650 with coupons (automatically applied at checkout) plus FREE shipping on the Yowza Pompano elliptical machine
CLICK TO SEE DEAL>
The Pompano Elliptical features YOWZA's Patented CardioCore motion which isolates the abdominal muscles while providing the ultimate in cardiovascular training.
The Pompano offers a fixed 20 inch stride length with 15% incline grade standard.
The nice looking elliptical has an extremely smooth motion. It seems to be very well built. It takes about 2 hours to assemble. The pedal design also makes it much more comfortable.
They are super padded and rock back and forth so your foot is not forced to make any awkward movements.
By changing your hand position on the moving handles you can target different parts of your abs, your shoulder muscles, and parts of your back muscles. All that on top of the usual gluteus, hams, quads, and you have a full body workout! The Yowza Pompano is very stable, reliable, quiet and smooth machine.
Related Yowza Elliptical Machines: