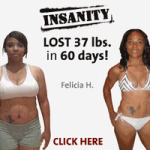 Get FREE gifts with INSANITY Workout DVD – 60-Day Total Body Conditioning
CLICK TO SEE DEAL >
Transform your body in 60 days with the most intense workout program ever put on DVD – INSANITY Workout. Shaun T will push you past your limits to get the hardest body you've ever had.
Plus 4 FREE gifts! INSANE results for just 3 monthly payments of $39.95. Plus… a 30-day money-back guarantee.
Get Your Ass Kicked to The Max with INSANITY Workout
If you gain weight very easily, lose it very slowly, the INSANITY Workout program literally can change your life and get you into the best shape.
This is a cardio heavy workout with minimal resistance training with lots of plyometric and isometric exercises,  and core exercise that will work you hard.
The exercises come fast and furious with a good mix of cardio and strength building (e.g. squat type exercises and push-up type exercises). But its primary focus is the CORE.
If you didn't know what that meant before Insanity, you will definitely understand it once you begin. It moves fast, you don't have any time between segments, which is the idea behind the program, so you need to be prepared to move.
It's broken into two four week segments with a "recovery" week in between. The warm-up itself is a workout and enough to kick your butt, but then you find it in yourself to push through 30+ more minutes of pure plyometric workout.
The first four weeks are two rounds of three sets of a series of exercises equaling about 40 minutes per session.
In the second four weeks you'll find some of the warm-up exercises were exercises from the actual program from the first four weeks.
And the program itself moves to three rounds of three different sets of exercises equaling about an hour. You'll actually be begging to go back to the first four weeks.
Shaun T is a good motivator and provides good tips about proper form and techniques. The music adds to the program as well; as each routine picks up intensity, the music is well designed to keep you going.
You get an all over workout for all your muscle groups, so when you complete each day, you have done an effective all over training. You will need to stick with your commitment to finish the program, to get the results that you want. You can't do half the work and expect all the progress.
Pros: 
– You don't need equipment or gym membership to do it.
– If you stick with it, you'll get results.
Cons:
– Tough workout. Hard to stay with it.
– Can't do if you have back or or knee injuries.
– If you live on the top floor of an apartment complex, you may want to be careful. There are a lot of jumps, hops, etc. not apartment friendly.
Click here to learn more >
Related Products: