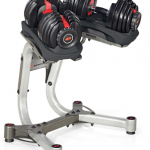 Save $100 plus FREE shipping with coupon code BEFIT17  on the most popular Bowflex SelectTech 552 Dumbbells
BEFIT17 >
Pros and cons of the Bowflex SelectTech 552 Dumbbells
Pros:
1. The adjustable weight feature
2. Multifunctional
3. Durable
4. Compact
5. Targets muscles
6. Space saver
Cons:
1. The price
2. The hand grips for some customers are little bit tough on the hands. Work out gloves help with this issue.
Perfect for: general fitness, body building, sports training, weight loss, P90X.
The SelectTech 552 Dumbbells can be used in a variety of ways, including squats, lunges, overhead press, lat pulls, plyometric jumps with weight, abs by holding the weight up by chest and more.
You can quickly adjust the amount of weight and target the right amount for each muscle group.
This product is outstanding in that it provides the sufficient amount of weight that you need to workout in a quick and efficient manner. It also takes up very little space, which is convenient for creating a small personal gym in your home. This multipurpose equipment effective for varied ages and fitness levels.
The Bowflex SelectTech 552 Dumbbells features:
Replaces up to 30 Dumbbells – with a turn of a dial you can automatically change your resistance from 5 lbs (2.27 kg) all the way up to 52.5 lbs (23.8 kg) of weight.
Adjusts to Your Workout – adjust in 2.5 lb (1.13 kg) increments (up to the first 25 lbs) (11.3 kg) so you can gradually increase your strength.
Space Efficient – One of the most space-efficient and flexible strength-training options available – say goodbye to 15 sets of dumbbells cluttering your workout space.
Wider Weight Range – with weight that adjusts up to 52.2 lbs., you'll continue to see results as your fitness level improves.
Quieter Workouts – durable molding around metal plates provides for a smooth lift-off and quieter workouts, no clanging metal plates!
Total Body Results – with the wider weight range you can do heavy exercises such as shrugs and lunges as well as lighter exercises such as curls and raises.
Special Bonus – FREE Bowflex SelectTech workout DVD – "Secrets of the 4 Step Rep" with every purchase.
Get the most out of your workout – work smarter, not harder!