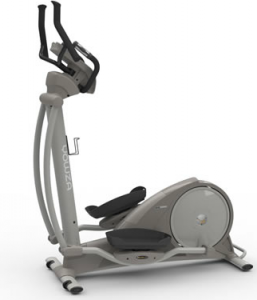 The Bonita Elliptical features YOWZA's Patented CardioCore motion which isolates the abdominal muscles while providing the ultimate in cardiovascular training. All of this in a space savings design just perfect for the home. The Bonita has a fixed 18″ stride length with 15% incline grade.
Yowza Bonita CardioCore Elliptical Overview
Yowza Fitness is one of the stronger manufacturers of exercise equipment. They recently released a new mid-range elliptical machine named the Bonita. It has been updated with the advances that they have made from developing further on their previous equipment.
One major benefit of the Bonita is that it has a servo motor drive to provide the resistance. This type of resistance system will outlast systems where you have to turn a knob to increase resistance. It will also be easier to adjust for different routines. The Bonita is definitely an elliptical that is built to last.
Save $500 + free shipping on Yowza Fitness CardioCore ellipticals >
Console
The console is one area where Yowza still has room to improve, although it is still quite good. It certainly has all the features you need, with clearly labeled buttons and a display that has a variety of statistics to check that will give you a good idea of how effective your workout is.
One very nice feature of this console is that it is very accessible, even to people who can't see very well or who prefer to take their glasses off when working out. The start and stop buttons are large, so they're easy to find even mid-workout. The display also has big numbers that are easy to read, especially with the backlight.
All in all, the Bonita console is certainly more than acceptable for a mid-range elliptical. There may be consoles that do more, but they also tend to cost more.
Programs
It's always nice to have preset programs on your exercise machine, especially if you are a beginner. The Bonita provides 12 programs of different intensities and can provide a challenge to novices as well as to fitness fanatics. You can even chose whether you want to work toward calories burned, distance run, or time run.
There is also a "random" program that allows for 50 different permutations. If you are confident in your abilities and like to be surprised or just get bored with the same old routine, this is a great choice. If you want to work on endurance, there's also a program specializing in that, which will also take into account what resistance you are working on. This program has 8 different intensities.
As you can see, while there are twelve separate programs for targeting different areas, it can feel like you have access to many more workouts when the variations of these programs are included. It's extra helpful that you can target the areas you want to work on the most.
Other Features
You can reverse the stride to work different muscles in your legs. The Bonita also promises a fairly quiet workout, which is especially nice if you prefer to listen to music or watch TV while you work out. It can be nice to have a distraction or motivational tool, and this will often mean you are able to handle more intense or longer workouts.
The Bonita has counter rotational handle bars, so your upper body is sure to get a good workout as well. As with all ellipticals, it offers a ride that is less jarring to achy joints, but it also has pedals that are carefully spaced to provide you with the most comfortable workout possible.
In addition to all the features of the Bonita itself, Yowza offers a lifetime warranty for the frame and brakes, three years for parts, and one year for home labor. There are options to extend the warranty if you are close to the size limit and are worried about wear and tear on the machine. However, you aren't likely to find a better warranty on other ellipticals in the same price range.
Limits
The stride length is 18" due to the fact that the Bonita is a compact model. Also due to its size, the Bonita can only support up to 331 lbs (150 kg). This won't be a problem for most people, but it is certainly something to consider. Higher range or even just larger models will be able to support more weight for those who need it.
Verdict
Like any model, the Bonita has pros and cons based on customers reviews. You will always get what you pay for to some extent, and the Bonita is not on the highest end of the scale, but it still has plenty of benefits.
Pros
• Built-in iPod dock to make adding music to your workout even easier
• Customers have praised its smooth motion
• Small footprint that makes it perfect for apartments or smaller homes
• Even customers who were not excited about the Bonita had plenty of praise for Yowza's customer support
Cons
• 18" stride may be too short for taller individuals
• Some users complained of creaking during use
• Pedals are not adjustable and may feel awkward to some individuals
Overall, the Bonita is a good value for its price. At $1,299 it is the second cheapest model that Yowza offers, and it's undoubtedly a solid midrange elliptical. While there are certainly better ellipticals available, the will cost much more, and it's unlikely you'll find a company that supports its products better than Yowza.
You can buy the Bonita or look at other Yowza Fitness models at the official company site. They offer plenty of deals regularly, so you can save even more money than the great values they already offer. For example, they are currently offering a $500 off with coupons!