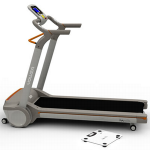 $300 with coupon (automatically applied at checkout) plus FREE shipping on the Yowza Lido folding treadmill
CLICK TO SEE DEAL >
The Yowza Lido folding treadmill incorporates our world class "Swing Arm" absorption system and work out made easy Intelligent Workout Management System with included wireless scale. Ready to use right out of the box, no assembly needed!
For an inexpensive treadmill, the Yowza Lido is a very well-built machine with a lot of features.
It comes virtually completely assembled, which is very convenient.
The included scale communicates with the treadmill, and after you set in some parameters, it auto-programs a challenging-enough workout for you (or you can modify it on the fly).
The Lido is exceptionally solid and it runs very quietly.
Cons:
Would be nice to have a slightly wider deck as it is somewhat narrow (but still very usable).
Related Products: